At the current rate of overuse, we will run out of water long before we run out of oil. This is why we say: no food for fuel. (Brabeck-Letmathe. 2011)
Around the world, there are increasing struggles on water security that poses complicated challenges to communities, governments and industries. Inadequacy of holistic approach, awareness and emphasis is threatening vulnerable populations, heightening political tensions and exacerbating environmental degradation. Traditionally, ensuring sufficient and quality supply of water is a state responsibility. But in the recent decades, involvement of business has grown in the interest of achieving more efficient and sustainable water resource and management.
Progress has been limited, however, and overall too sluggish.
Essential Element of Life
Throughout the history, water has been intertwined with humankind. As an instrument of advancement, it plays a significant role in all aspects of life – in the biodiversity of our environment, in the sustenance of our existence and in the breakthrough of our civilization.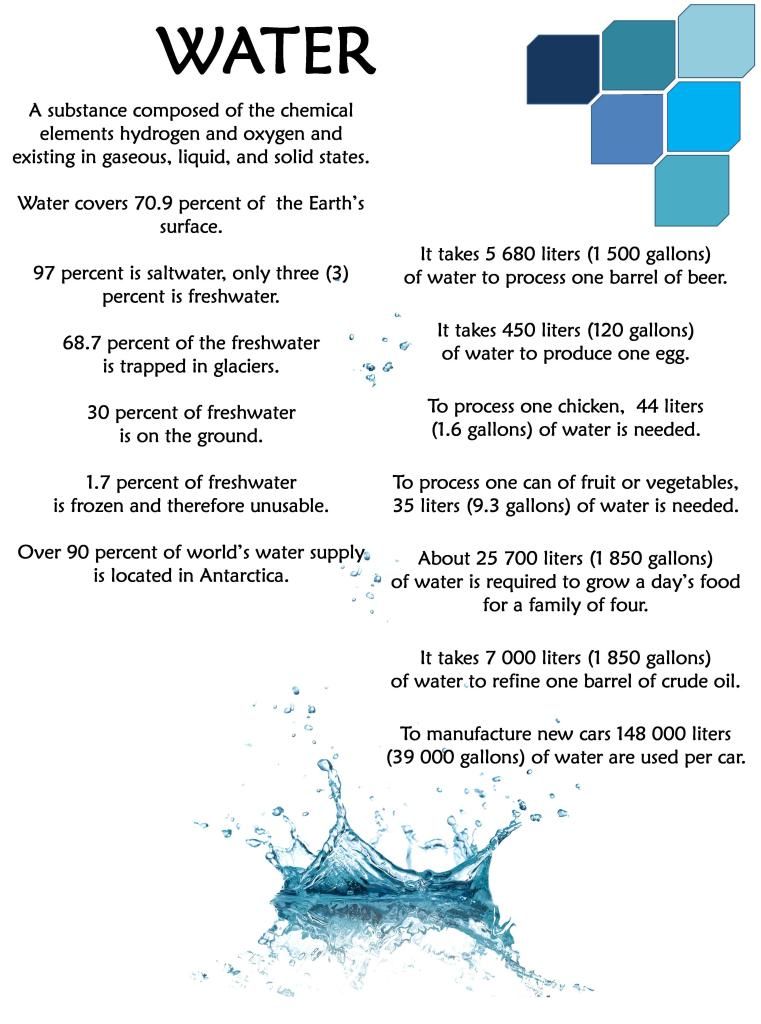 Water security encapsulates complex and interconnected challenges and highlights the centrality of water for achieving a sense of security, development and sustainability. While the global demand for water has risen steadily, since 1940, withdrawals have risen faster than the rate of population growth. The increased demand is not only attributable to growing population, increasing prosperity, demographic shifts and climate change but also stems from disproportionate and unjustifiable consumption.
Insufficient supply of safe water is the third highest risk to global development. According to the United Nation's Children Fund (UNICEF) and World Health Organization (WHO), eight percent of world's population relies on unimproved sources for drinking water and three percent drinks surface water. In rural areas of least developed countries, 97 out of every 100 people do not have piped water. In the next 15 years, the demand for water is set to rise by 50 percent, and withdrawals could exceed natural renewal by 60 percent as reported by the 2030 Water Resources Group (2030 WRG).
An analysis of the International Food Policy Research Institute (IFPRI) reveals that if status quo, business-as-usual behavior persists, 4.8 billion people and approximately half of global grain production will be in peril due to water stress by 2050. It also indicates that 45 percent of total GDP (USD 63 trillion) will be at risk, 1.5 times the size of current global economy.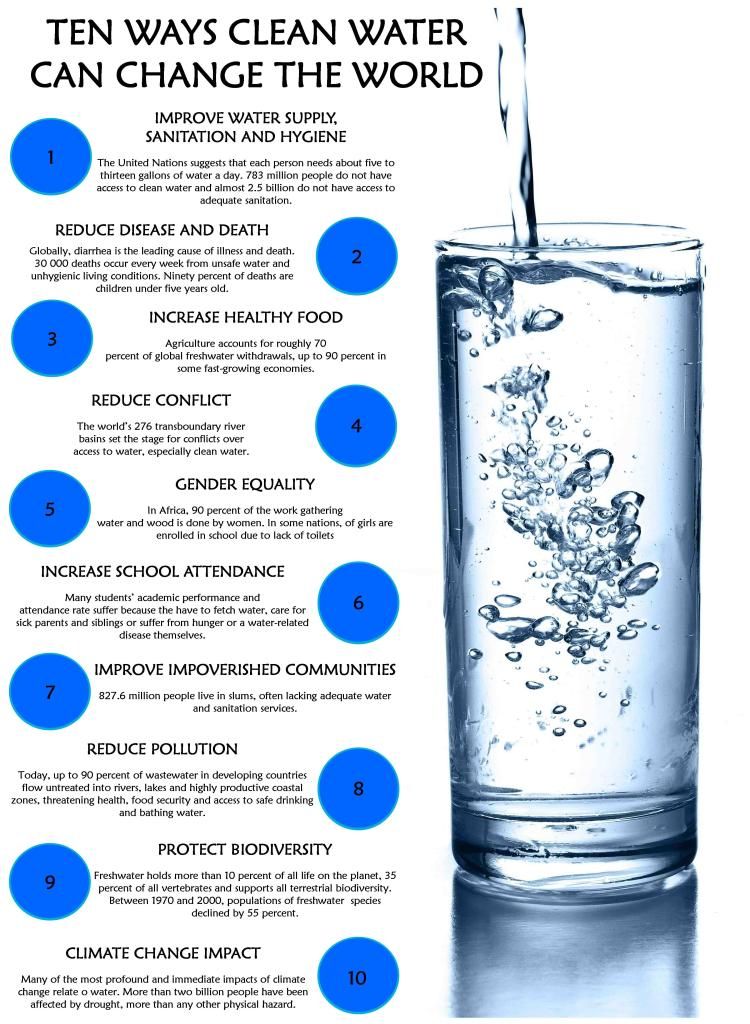 Rethinking Ways
Ensuring water security is necessary for political, social and economic stability. Competition for supplies has led nations to view water as a matter of national interest. At the international level, conflicts tend to arise on shared basins and transboundary waters, especially when combined with circumstances of limited availability and absence of effective mitigation mechanisms.
For business, water is a key strategic tool for success and longevity. Oftentimes, firms are blamed as major causes of water crisis, widely perceived to be prospering at the expense of the broader community. A large part of the problem lies with outmoded approach in value creation that has emerged over the past few decades. Companies continue to optimize immediate financial performance while missing the expectations and needs of the society and ignoring the broader influences that determine enduring accomplishments. As a consequence, diminished credibility led to public clamors and for political leaders to enact policies, sometimes defeating all parties involved.
Establishing the right equilibrium and mending the fissure between business and society is extremely difficult without a guiding principle. A core concern of the public sector is to ensure that strategies to achieve corporate goals must not cause undue adverse effects. On the side of the government, a clear legislative framework which recognizes the interests of people and business is necessary. But it is not enough as confidence is gained through mutual endeavor. It involves rethinking ways suitable to the changing times.
The solution for companies lies in the principle of shared values (CSV or SV), which involves creating economic value in a way that also creates value for society by addressing its necessities and challenges. It is not social responsibility, philanthropy or sustainability, but a new way to achieve economic success. It is not on the margin of what companies do but at the center. (Porter and Kramer. 2011)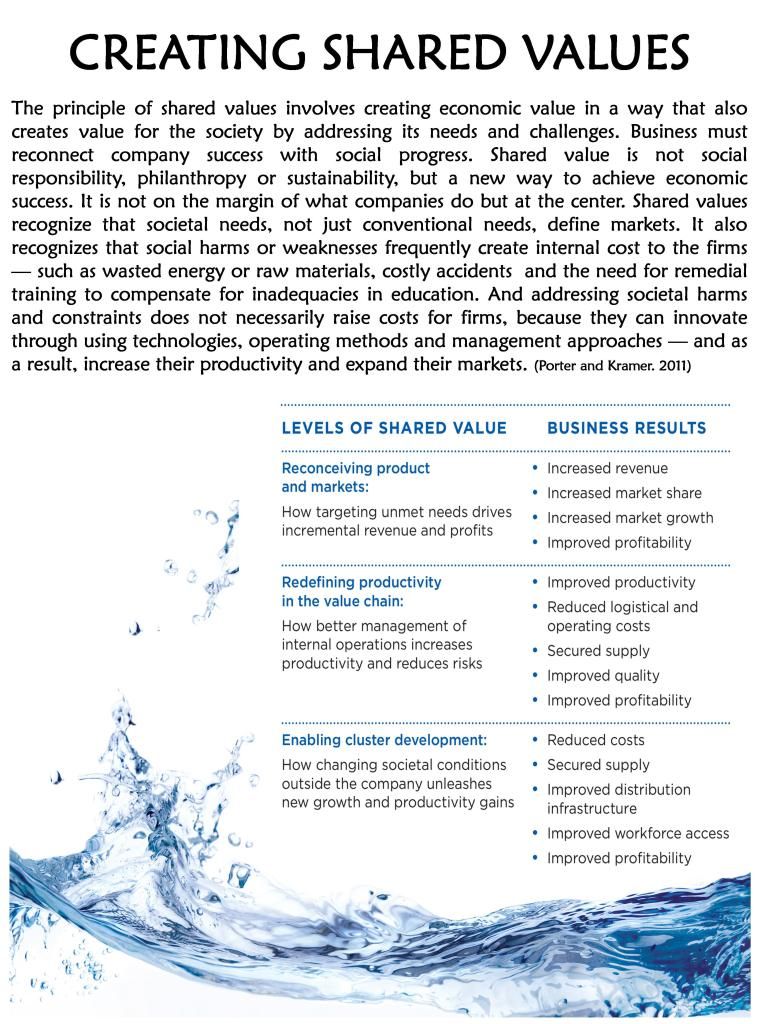 The interdependence of business and society with each other is the wellspring of shared values. It recognizes societal needs, not only conventional economic needs as the forces that define markets, and that any social predicaments can create internal costs for firms. By connecting corporate success with societal improvement, it resets the boundaries of capitalism and unleashes many ways to serve new needs, gain efficiency, create differentiation and expand markets.
Shared values offer a united and effective response to many global challenges. In tackling water security, how can companies create effective shared values that will ultimately build a sustainable competitive edge and will bring business and society together anew?
Creating Shared Values
Even if threats to water security are local, it has a global dimension. The obligation to contribute to resolving water issues does not solely lie to the state and citizens. Business by creating shared values could greatly contribute to address the challenge.
There are three distinct ways to create shared values: by reconceiving products and markets, redefining productivity in the value chain and building supportive industry clusters at the location of the company. Each of these is part of the virtuous circle of shared values; improving value in one area gives rise to opportunities in the others. (Porter and Kramer. 2011)
Reconceiving Products and Markets
The awareness of the society on the challenges of water scarcity is growing. With it comes the concern of people to positively contribute in every way through prudent selection of products and services. By innovating to meet not only corporate goals but also to contribute in ensuring water security, business is creating shared values.
The necessary point for reconceiving products and markets is to identify all the societal needs, benefits and harms that are or could be embodied in the products and services of the firm. (Porter and Kramer. 2011)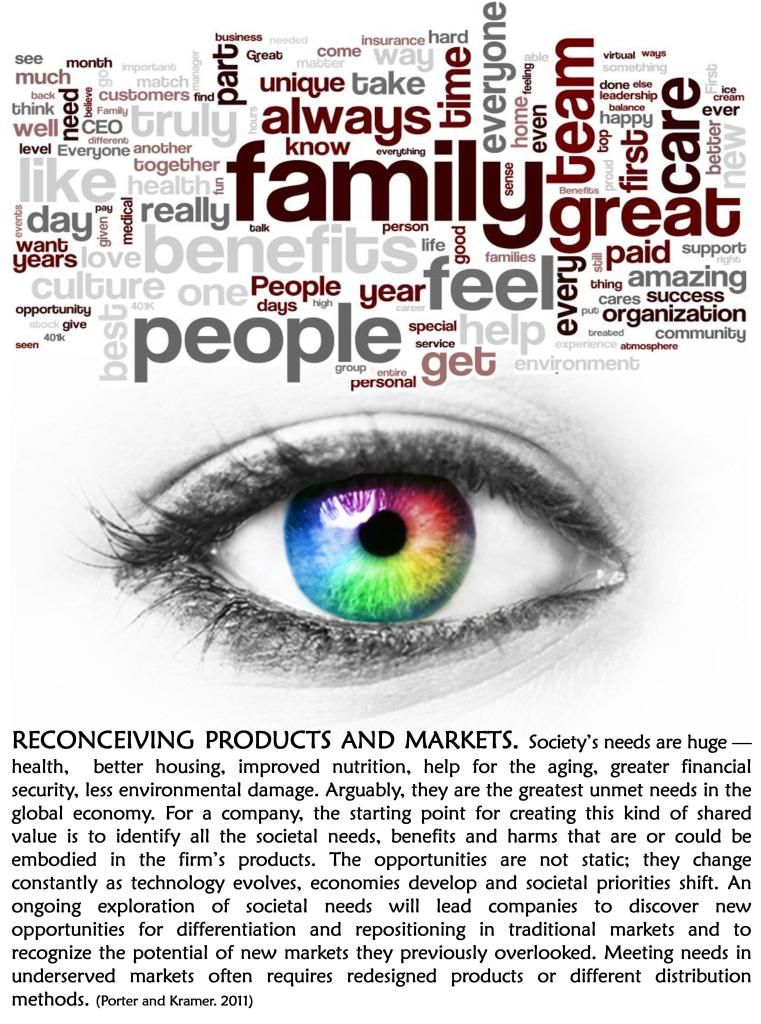 Companies should demonstrate leadership initiatives which acknowledge answers to water issues as shared responsibilities through developing products and services that promote water stewardship. As partners, consumers must have the right to accurate information regarding the water-impacts of products.
Business could be an effective catalyst of positive change by devising ways to help utilities harness digital intelligence in order to responsibly manage water resources; by developing services and tools to help consumers economize on water usage; by reassessing and refocusing on products that cause less or no harm to water resources and by providing services that improve water catchment and harvesting.
Redefining Productivity in the Value Chain
The value chain of the company is threatened by societal issues which can create extreme economic costs. Efforts to participate in resolving water scarcity contributes to the stability of business, contrary to the belief that it increases expenses and occurs only to comply with governmental regulations.
The new thinking reveals that the congruence between societal progress and productivity in the value chain is far greater than traditionally believed. The synergy increases when firms approach societal issues from a shared value perspective and invent new ways of operating to address them. (Porter and Kramer. 2011)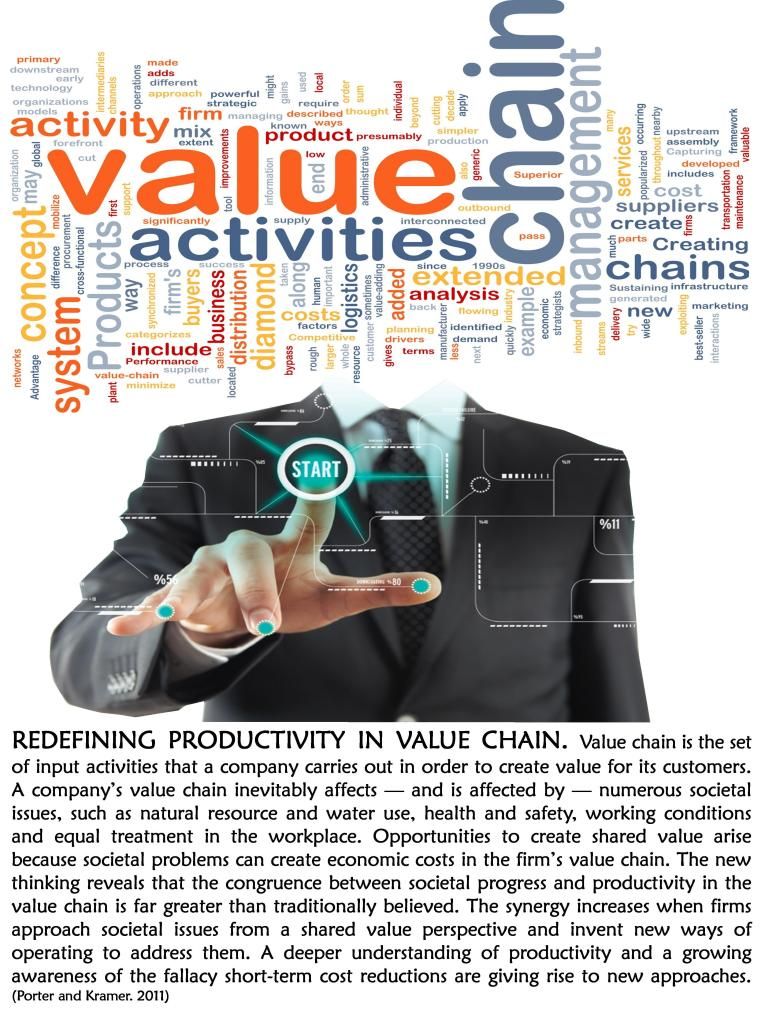 Companies should not only focus on minimizing water usage and costs but also on rigorously working to improve water efficiency, using alternative water sources such as rainwater harvesting, reducing water withdrawal, increasing reuse and return of clean water to the environment. Responsible water utilization, enabled by improving technology and habits will permeate all parts of the value chain and will definitely spread to employees, partners and channels.
Enabling Local Cluster Development
A business cannot expect to function in isolation. The achievement of every company is affected by the supporting companies, infrastructures, institutions and policies in its area of operation. Being disconnected to the community presents constraints on efficiency and productivity.
Firms create shared value by building clusters to improve productivity while addressing gaps or failures in the framework conditions surrounding the cluster. When a firm establishes clusters, it amplifies the connection between its success and progress of community. A firm's growth has multiplier effects, as jobs are created in supporting industries, new companies are seeded and demand for ancillary services rises. (Porter and Kramer. 2011)
A committed engagement with clusters stimulates thoughts and solutions that lead to better policies and governance for the common good. By working with clusters, business could develop sustainable water management schemes, facilitate rehabilitation of watersheds, help resolve conflicts in shared basins and deliver water, sanitation and health (WASH) programs closer to society while it enables to identify gaps, deficiencies and weaknesses that may hamper the firm.
The world needs a more sophisticated form of capitalism, one imbued with social purpose that arises out of more profound understanding on the intention of business and economic value creation. There is no arduous sacrifice involved in seriously tackling our finite water resource; much can be accomplished by creating shared values. We greatly owe every drop to the future generations.
References:
Addams, L., Boccaletti, G., Kerlin, M., Stuchtey M. (McKinsey and Company). 2009. Charting Our Water Future. 2030 Water Resources Group. Washington D.C., USA.
Fishman, C. 2011. Why GE, Coca-Cola and IBM are Getting Into the Water Business. http://www.fastcompany.con/1739772/why-ge-coca-cola-and-ibm-are-getting-water-business. Fast Company.
National Intelligence Council. 2012. Global Water Security Intelligence Community Assessment. Washington D.C., USA.
Nestlé SA. 2014. Nestlé in Society: Creating Shared Value and Meeting Our Commitments Full Report.
Porter M.E., Hills G., Pfitzer M., Patscheke S. 2012. Hawkins E. Measuring Shared Value: How To Unlock Value by Linking Social and Business Results. Foundation Strategy Group. Washington D.C., USA.
Porter M.E., Kramer, M.R. 2011. Creating Shared Value. http://www.fsg.org/OurApproach/WhatisSharedValue.aspx. Harvard Business Review.
Stirton, B. 2010. Experts Name the Top 19 Solutions to the Global Freshwater Crisis. http://www.circleofblue.org/waternews/2010/world/experts-name-the-top-19-solutions-to-the-global-freshwater-crisis/. Circle of Blue.
Water in 2050. http://www.growingblue.com/water-in-2050. Growing Blue.
PHOTO CREDITS:
Nestle
Coca-Cola
Johnson and Johnson
Jewish National Fund
Emory Business